How To Buy Eggs?
Your adventure on CryptoZoo start with eggs.
Buy eggs and hatch them to receive animals, start playing the game, and earn yield.
---
On OpenSea With ETH
⚠️ Only buy from the official Cryptozoo.co store on OpenSea.
How to buy eggs with ETH?
Buy Ethereum on Binance
Go to opensea.io
Connect your wallet
Buy eggs
---
On CryptoZoo Marketplace With $ZOO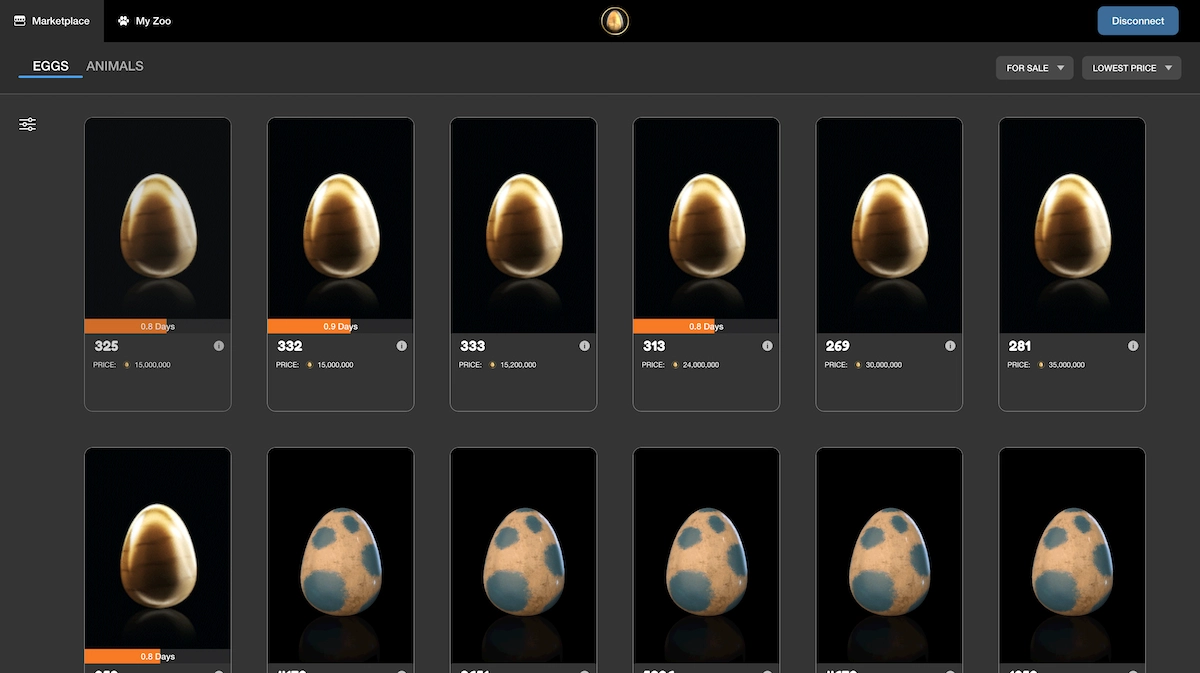 How to buy eggs on CryptoZoo?
Go to market.cryptozoo.co
Connect your wallet
Go to Eggs
Use the filter to find the right egg
Click on the egg
Click on Buy
Note: All transactions on CryptoZoo marketplace are in $ZOO.
---
How To See Your Eggs In Your Wallet?
The eggs are ERC721 tokens both on the Ethereum Network and on the BSC (Binance Smart Chain).
To see them in your wallet you need to add the token.
In your wallet:
Click on "Add Token"
Token Address

BSC: 0xad9282bD580Ba3D17603de9dE1113234AC829686
ETH: 0xccee4d557588e982ecf3a2391d718c76589d8af9

Token Symbol: EGG
Token Decimal: 0
Now you can see the number of eggs or animals you have on CryptoZoo.
---
FAQ
When is the next egg drop?
The next egg drop will be in Q3 2022.
Where will be the next egg drop?
It was confirmed by the team that future egg drops will be only on CryptoZoo marketplace and you can only buy them with $ZOO.
What animals will be in the next egg drop?
The second egg drop will not contain base animals. It will be a different type of animals (or maybe not animals at all).
What cryptocurrency can you use to buy eggs?
Why some eggs are spinning and other are not?
There is no difference between the eggs, it's just a metadata issue on Opensea's end. To get your egg to spin, click on the egg and in the top right corner there is an arrow called "Refresh Metadata", this should make the egg spin once finished queuing.
When can I hatch my eggs?
How many eggs have been hatched?
You can check how many eggs have been hatched in real time on zoology.tools.