Keep An Eye On CryptoZoo Arcade
We say it all the time, the best thing about CryptoZoo is its community.
And here's another project to prove it!
2 Zookeepers launched this new project called CryptoZoo Arcade to help developers offer mini-games with the $ZOO Token.
Here's another step to bring more utility to $ZOO, more degens to play in the ecosystem, and to help get more Zookeepers to join the community.
What Is CryptoZoo Arcade?
CryptoZoo Arcade is a project that wants to help develop the CryptoZoo ecosystem by making it easier for game developers to integrate $ZOO tokens in their mini games.
The 2 guys behind CryptoZoo Arcade developed a bunch of smart contracts and tools to make it easier for anyone who was a mini game to integrate $ZOO.
They already built a smart contract, game wallet and distribution tokens to make the job of game developers easier, and faster.
So far there's only 1 mini game coming to the platform, but we can expect to see a bunch of games joining their Arcade in the coming months. Keep an eye on it.
CryptoZoo Arcade First Game
Right now, CryptoZoo Arcade is working on CryptoZoo first mini-game called "Hatch Scratcher".
In short, it's a scratch game where you can bet on what animal is behind a specific case. All the bets and rewards are in $ZOO.
From what they shared on their Whitepaper, the game is 90% completed (see screenshots below) and should be released in a few weeks.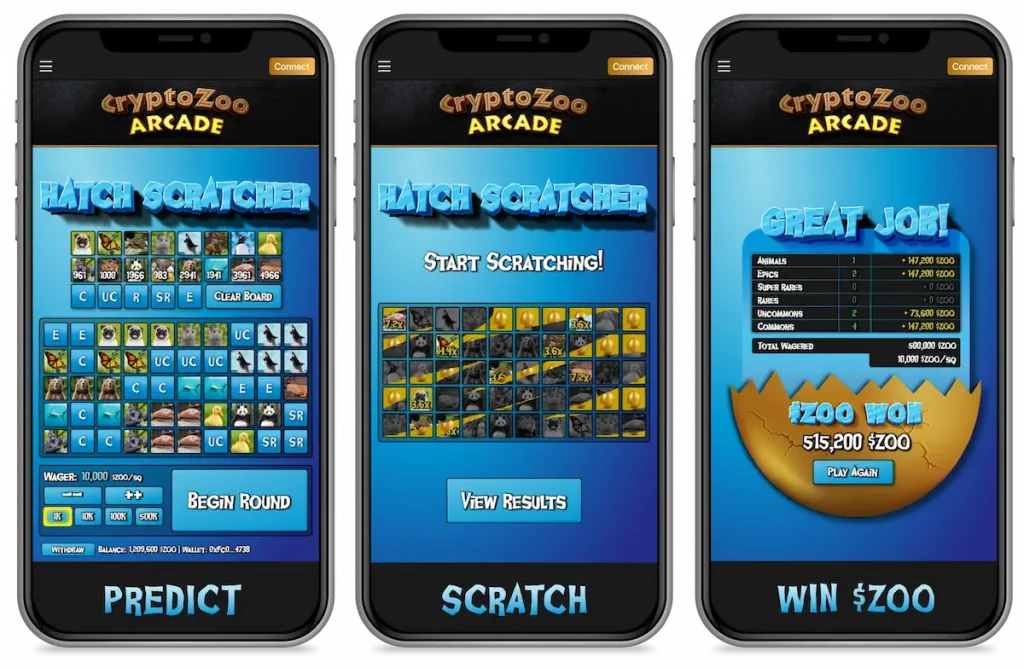 Take also a few minutes to read the whitepaper on the game, it's extremely detailed and exciting.
We can't wait to play!
Join The Movement
Zookeepers, go support CryptoZoo Arcade and follow them on social media to see what they're coming up with next.
What do you want to see on CryptoZoo Arcade?
Let us know in the comments.